The forward assist (FA) assembly on the AR platform has been a hotly-debated topic for years. Some shooters won't carry a weapon that you can't force back into battery if you have to. Other see it as needless added weight, a relic from a bygone era when the AR was less reliable. These folks point out the fact that the bolt carrier has a thumb scallop to allow the shooter to manually close the bolt by pushing forward on the carrier through the ejection port door.
Personally, I like being able to tap the FA and ensure the gun is in battery, especially after performing a press check, but I see both sides of the argument.
As more manufacturers step into the AR market, there are more options for uppers without a forward assist, or even without a brass deflector. Shooters who prefer these uppers point to the weight savings and simplicity of these uppers.
As V7 Weapons Systems brings the AR up to date with advanced lightweight materials, the forward assist was one part they were keen to take a shot at. If you have ever held a forward assist outside of an upper, it's pretty obvious that there's room to save some weight in this item.
When I got the FA from V7, I was pretty sure that they had somehow forgotten to put it in the envelope. I wasn't worried, as the V7 crew are great people to deal with. I figured I would call them up and let them know that they shipped me an empty envelope, and it would be all set.
Then the FA tumbled out of the envelope and into my hand in its little plastic bag. The FA is really that light. The par itself is emblazoned down the central section with the V7 logo, which is covered up when the FA is installed in the gun. So if you're worried about seeing a bunch of logos cluttering up your gun, you're in the clear.
I grabbed a forward assist from my parts box (in this case a PSA part) and proceeded to weigh them out. You can see the results below: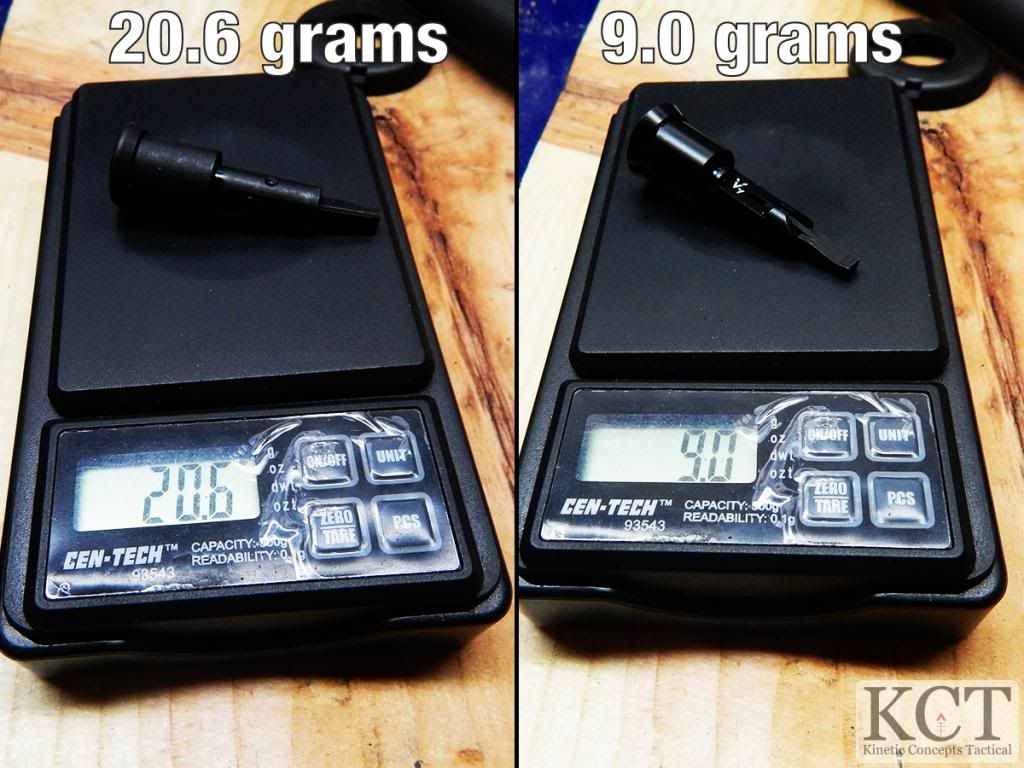 As you can see, the V7 FA weighs less than half of the mil-spec part. Installation was a breeze as usual with V7, and the unit functions exactly as it should. The V7 part feels like it moves a bit smoother, most likely due to the excellent machining and finish that V7 has applied to the part.
When you look at the weight savings, the upgraded FA makes perfect sense. Taking a part that sees limited use by some, heavy use by others, and make it so that it is no longer a weight detriment to the rifle. Everyone I have talked to that doesn't like the forward assist has ended their argument with "if I'm not going to use it, why should I have it adding weight to my gun?" In this case, you can have your cake.... yeah.
You can see V7's entire line of components
here.