Overview
There is no shortage of multi-tool designs today. A quick flick through any tool catalog or tactical magazine will present you with a pile of pliers with a bunch of flip out tools. With so many choices, it's pretty easy to pick the wrong tool, or one that just doesn't do what you want. As the AR-15 Tool has a unique set of features, the standard criteria you might use to pick a multi-tool will need a bit of tweaking on this one.
The Tool
A while back I took a look at the
Real Avid Carbon Scraper
, which has turned out to be one of the most impressive and useful tools I own. When RA released their AR-15 tool, which combined a multi-tool with the proven utility of their Carbon Scraper, I knew I had to take a look at them.
So what does the AR-15 Tool have for you? Well, here it is (straight from their website. There's only so many ways I can re-phrase a list of tools).
» Combination needle-nose pliers
» Carbide cutter
» G10 grip plates
» Carbide glass-breaker
» Carrier scraper
» 10 function bolt/firing pin/cam pin scraper
» Cotter pin puller
» Bolt override tool
» A1 & A2 front site adjuster
» Interchangeable pin punch
» Interchangeable hooked pick
» 8-32 male and female thread receivers
» 3.25'' 440c serrated Tanto knife
» 12 high quality bits with bit driver
» Tap hammer
» Metal file
» Durable black oxide coating
» MOLLE compatible ballistic nylon sheath
First of all, I should explain what I was looking for in this tool. As I already loved the Carbon Scraper, I was excited to see it incorporated into a multi-tool. The pliers, bit drivers, cutters, and knife were the main points I was interested in. I didn't see the bolt override tool and swoon, nor did the hook or file speak to some deep need in my soul. But I need a multi-tool for the range, and I figured I would start here.
In Use
The fist thing I did was get my ARs filthy, and clean out their bolt carrier groups with the RA Tool. I am pleased to say that if you have used their Carbon Scraper before, you will be happy with how the Tool performs. The carrier cleaner and bolt carbon scrapers are a bit more robust, as they can afford to be full-sized versions in the multi-tool format. The good thing about this setup is that you can exert more force due to the robust, full-sized multi-tool format. If you haven't gotten a Carbon Scraper yet (and why haven't you?), and you need a multi-tool, those birds and stones come together nicely here.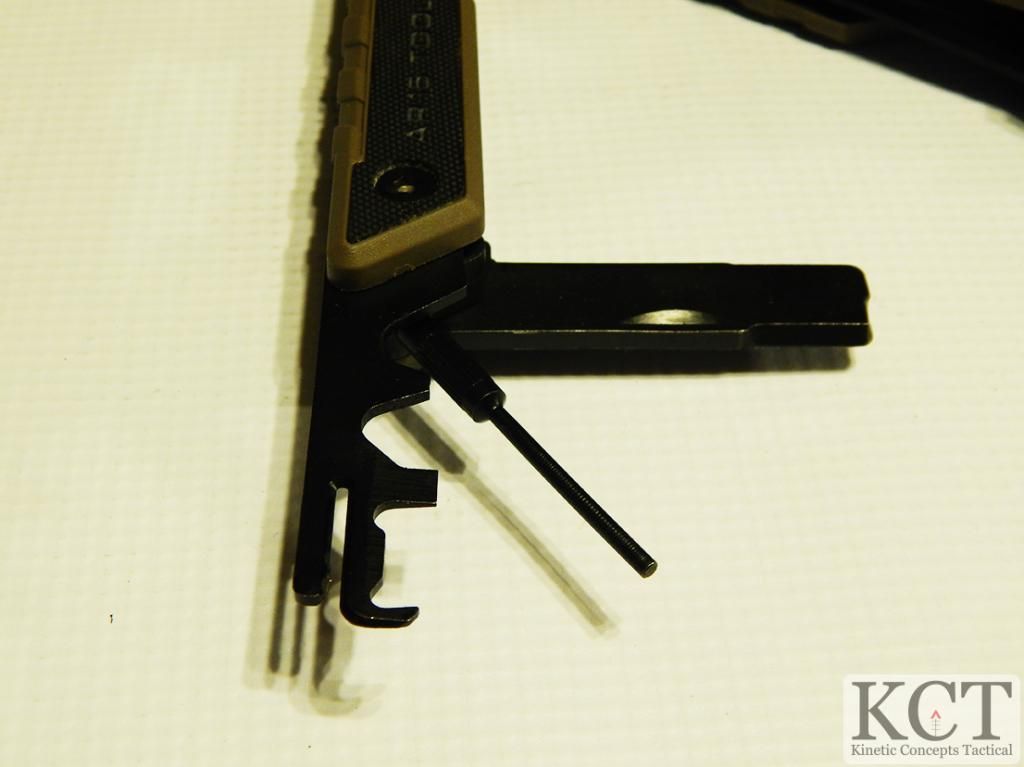 The pliers and their attached (removable) carbide cutters are also great, mostly due to the fact that they are spring loaded, a definite plus in a multi-tool. There's some downsides to the tool which I noticed during use, but we'll get to those in a bit.
The bit driver is a nice touch. Each bit is double sided, and gives you most of the common bits you need during gun maintenance. Whether I'm tightening down an optics mount, replacing a stock, or putting on a new torch, I never feel like I have to go to my toolbox for a bit or a driver. The bit extension is slightly magnetic, but I would like to see the magnet be a touch stronger, as the bits themselves sometimes catch into whatever you're working on and pull out of the driver.
The blade is also useful, with both a straight and serrated section for depending on what you're working on. That said, the RA Tool is a heavy and bulky tool, making the blade a poor choice for defensive use, which is obviously not its intended use.
The hook probe is useful for fishing debris out of your gun or wherever, but I haven't had much use for it yet. It is removable, and you can place another tool (not included ) on the subsequently exposed male threaded end.
The punch (also removable, this time exposing a female end, so they are not interchangeable), is a godsend for knocking out stubborn take-down pins and roll pins. It fits many of the roll pins and other small pins on most modern firearms. In this case, the weight and bulk of the tool comes in handy here, as the tool can be used to drive the pins out without much else than the tool itself.
I have tried the bolt override tool after a recent carbine course where we practiced clearing that particular malfunction. Although the tool was well designed, I had better luck using the bottle opener on my Gerber Dime than the dedicated tool on the Real Avid. It most likely has to do with the angle which the tool flips out of the handle. While it had a problem clearing a jam on the line, in a calmer situation, it is quite adequate for fixing the jam on the bench.
The glass breaker is something I will have to get some time on, as I have not taken the time to break glass with it yet.
The tap hammer almost seems an afterthought, as it is simply a flat area of the tool with the grip screw exposed. the rest of the Tool is covered in G10 grip panels. I have used the tap hammer to knock out a roll pin from a forward assist, and it scuffed the hell out of the Tool. So the tap hammer can certainly be used in a pinch, but its not a go to tool when you need to pound something with authority.
The Tool also includes a 4 and 5 pin front sight adjustment tool. This tool is durable and well made. As someone who carries sight tools to the range, I can safely say that there are never enough when you're at a class. If you're going out to shoot with a few people, bring one. You'll thank me.
Real Avid's multi-tool rides along in a custom tan ballistic nylon pouch. It has both a belt and MOLLE loop for versatility, and has a side pocket for the sight tool and other small bits or wrenches you may have along with you.
And here comes my biggest issue with the Tool. It's big,it's heavy, it's bulky. When I ordered the tool for review, I hadn't physically seen it or held it. I don't have huge hands, but it fills them. I wanted to be able to throw it on my belt and head to the range, but it feels like I had a brick on my hip. And carrying it in your pocket is difficult too, as it takes up a lot of space and hurts when it bangs into your knee.
So, if it's not a pocket multi-tool that fixes your AR, what is it? I finally understood the design decisions Real Avid had made when I realized that the AR Tool is pretty much a complete toolbox for your AR that rides in your gun bag. If you're saying "well, duh," hear me out. I'm new-ish to the world of multi-tools, and I'm just learning what works for me, and what I need to skip. Not seeing the Tool set me up for a bit of a surprise. But having it with me for a couple carbine courses and range sessions has shown me that if I need it, this tool probably has it. After numerous range trips and rifle builds, every time I reach for the AR Tool, it gets the job done. It's got the perfect selection of bits and drivers, pliers and tools to do anything I need to do.
Since carrying the Real Avid AR Tool, I have not worked on any AR-type rifle and thought "wow, I wish I had that bit, punch or tool". And any shooter will tell you, that's a good thing. It also works wonders when setting up steel or other targets at the range, as the powerful pliers and heft of the tool eliminates the need to carry a socket wrench for the bolts.
On top of that, you have Real Avid's excellent carbon scraper tool, in a larger and more capable format. That right there is worth half the price of admission. I cannot say enough of how much time this tool can save you when cleaning a filthy bolt carrier group. Having that on tap with the rest of the Tool makes cleaning and light maintenance a snap. Just don't plan on fast-roping through a window with it.
Wrap Up
The bottom line on Real Avid's new AR specific tool is this: If you don't own RA's Carbon Scraper, you need one. If you need a tool that will help you keep your favorite black rifle running clean and happy, and cut your cleaning time dramatically, you're in luck. You just shaved a lot of time off of maintenance and saved a few trips to the toolbox. You can take a look for yourself
here.
Stay accurate.
Kinetic Concepts Tactical