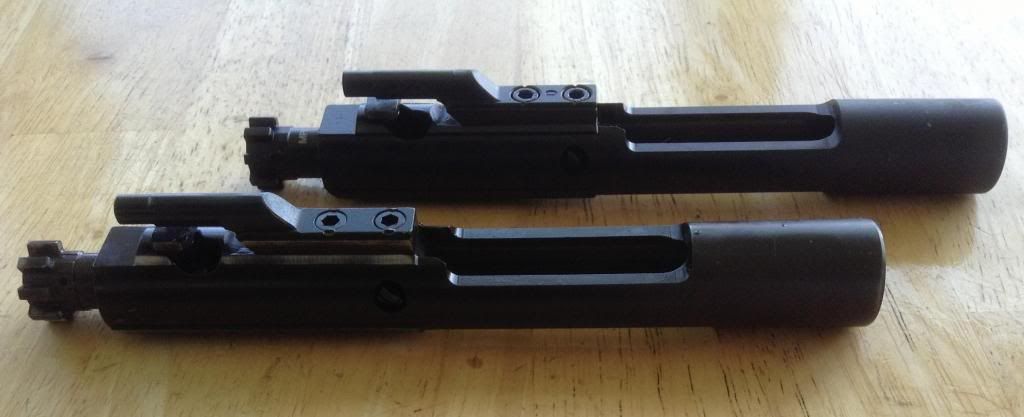 MI bolt carrier group (top) next to CMMG BCG.
With the immense popularity of the AR-pattern rifle, aficionados of Stoner's design are spoiled for choice when it comes to parts these days. As manufacturers catch up from the buying frenzy, and new manufacturers throw their hat into the ring, there's a lot more companies out there making AR parts and accessories than there were a few short years ago.
On one hand, this is great, as more options are not a bad thing. On the other, its causing a lot more buyer's remorse as people are drawn to a cheaper or newer product, or something being in stock when you need it.
When I saw MI having Bolt Carrier Groups in stock (thanks to Ben at ar15news.com), I was pretty excited, as MI makes some great products. I ordered one late Memorial Day, and it was here 2 days later. Amazing shipping speed. After doing a bit of research, I found that they are built out of house for MI by a Government supplier, according to Andy Yohnk, Technical Support for MI.
The specs are as follows, adapted from Midwest Industry's website:
Bolt is Carpenter 158 steel

Carrier is made from 8620 steel

Bolt is Magnetic Particle Inspected and marked MPI

Hard chrome lined carrier, phosphate finish

Chrome lined gas key (staked)

Shrouded firing pin

Made in the USA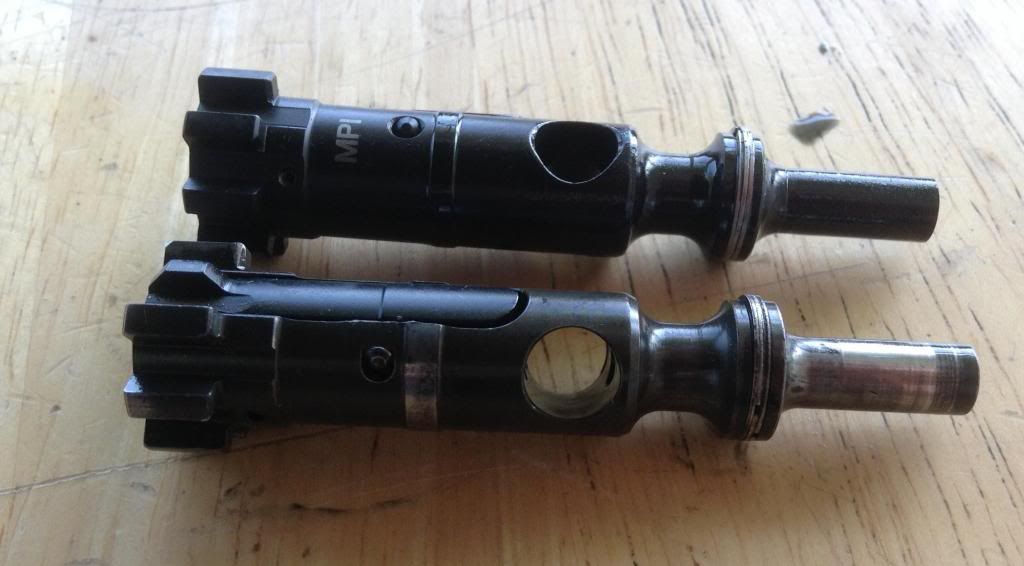 MI BCG (top). MPI marking is visible
After getting the carrier, I ripped it down for a detailed inspection and lube. The first thing I noticed is the MPI marking on the bolt. A good start there. The bolt carrier group worked pretty stiff, which is to be expected with new gas rings and an un-lubed carrier. I broke it down, and discovered signs that it had been test fired, again backing up the MPI claim. Comparing the MI and CMMG carriers together, the staking was not as deep as it is on my CMMG, but I've gotten BCG's from top-tier manufacturers before with little to no staking, and some companies who are quite well respected don't even stake their carriers.
MI carrier on the right




The CMMG and MI carriers share the same profile. This is your standard AR-15 carrier style, and has not been optimized or changed to enhance or cater to any particular function. In my mind, this is a good thing, as it will work across more platforms than a carrier tailored for a particular setup.
The bolt itself is pretty standard. The extractor, ejector, and everything on it works as it should, although the extractor is a bit softer in its motion than my CMMG. The CMMG bolt has an o-ring in it from the BCM extractor upgrade kit, which increases the tension on the extractor. I run guns with and without the o-ring, and I don't consider it a necessary item. On some guns, it helps more than others, and can fix a lot of extraction issues, but with a proper extractor and a decent extractor spring, I believe they are unnecessary for most guns. More on this later.
The MI bolt (above) with their respective extractors




The bolt comes with the proper black insert. The extractor pin slides in and out with no hangups, and is properly held in place by the extractor tension. More on this later as well. The ejector functions properly, and is hard to push down with a finger, as it should be.
I put it together again, and dropped it in a 16" CMMG upper on a Detroit Gun Works lower. The upper is a DI system, and uses a BCM Mod 4 charging handle. The lower has a Magpul B.A.D. lever. As there was already a light film of oil from my take-down and reassembly, I did not lube the BCG at this time.
I threw a half-dozen dummy rounds (Magpul polymer rounds) into the magazine (BCM black aluminum, with anti-tilt follower), and began racking them through the weapon.
The ejection was crisp and flung the dummies to my 4 o'clock with authority. On the 4th round, however, it seemed like the bolt was taking a moment longer to unlock before it ejected the dummy. Upon chambering the next round, it caused a double feed. I cleared it, and continued. On the 6th round, it did the same.
I cleared it and looked at the magazine and the bolt. The BCG seemed to lock up well, and moved smoothly by hand in the upper, which had not been lubed since its last cleaning, three days before. I reloaded the mag, and tried it again. It seemed to want to double feed every second round, and would happen with the bolt far enough back that I could not lock the charging handle forward.
I've never had a problem with the BCM magazines, and again, the bolt felt pretty stiff, so I took it back down, and lubed the upper and BCG with Wilson Combat Ultimate Weapons Lube, and put it back together.
I then cycled the gun 50-60 times empty to break everything in. After a few dozen cycles, it seemed to unlock easier than it did earlier. I threw in the BCM mag with the dummy rounds, and chambered a round. I brass check anytime I handle a weapon, and this is no exception. The MI group felt a little stiffer when unlocking, and I had to use the forward assist to get the bolt to lock home. No big deal. I hand cycled it again, and the BCG threw the first dummy just fine, and locked up on the second. I cleared it again, and then loaded a PMAG (MOE, Gen 2, non-windowed) with the dummy rounds and tried again. It still unlocked stiffly on the brass check, and jammed up the first time I hand cycled it.
What this feels like is friction on the gas rings and/or cam pin channel impeding the unlocking of the bolt from the upper's locking lugs. I hand cycled the gun another 50-60 times, then broke down the BCG.
I fully inspected the bolt and carrier, and swapped out the cam pin the MI carrier had for an older pin that is smooth and worn, reassembled the BCG and tried running the dummy rounds though again. Still no luck. I swapped in my CMMG BCG, and ran the dummies through the gun, not a single hangup.
Going to my parts box, I installed parts from a BCM bolt upgrade kit in the form of three new gas rings and an o-ring. I like the BCM gas rings because they always cycle smoothly, and appear to be made with just a touch more precision than most rings. The o-ring was an afterthought, but I figured I would try it in lieu of a new extractor spring. I slapped it all back together, lubed it up, and tried again.
Magic. It ate up 30 rounds of hand cycled dummies and begged for more. There was still a little resistance at the unlocking stage, but again, this is probably because the BCG is new. I took the o-ring out, and the gun double fed again, proving that the extractor tension was off. I replaced it, and ran it again, and it worked like a charm.
I broke the BCG down one more time and took a closer look at all the parts. I pulled the extractor spring assembly, and compared the MI spring with a new BCM spring from my parts box. This is what I noticed.
The MI spring was quite a bit shorter than the BCM. I swapped out the springs, reassembled the BCG, and cycled the dummies through the rifle with no hiccups. I'm not saying that MI is sending out defective springs, just that on my group, a spring swap was needed to get the BCG running.
BCM is my go-to company for small parts for a reason. Any time an issue pops up, a swap for a BCM part usually fixes it for me.
Up next: Live fire testing. Stay tuned.
Update 6/23/13
We took the MI BCG out for a test run today. I ran my carbine with downloaded magazines loaded with a mixed bag of random ammo I had laying around. Tula, Brown Bear, Federal 193, American Eagle .223, PMC X-TAC, PMC Bronze and a few other types were loaded up for the test.
The BCG performed flawlessly. It ate up about 200 rounds of this mixed ammo without a single issue.
Ejection was consistent, right around 3 o'clock, and the carrier cycled flawlessly. This is far from a conclusive test, but it worked every time, and never quit. So far, I say this thing is good to go. I'll keep you posted as it goes through more rounds.