As the saying goes in the shooting community, "Steel makes you fast, paper keeps you honest." Steel targets are a great supplement to your training regimen, and greatly reduce the time to run drills at the range. This is primarily due to the fact that you instantly know if you've landed a hit, eliminating the need to approach the target after each run to determine or mark your hits. Even with beginning shooters, this promotes confidence while shooting, as you know exactly when to correct errors in your technique and fundamentals.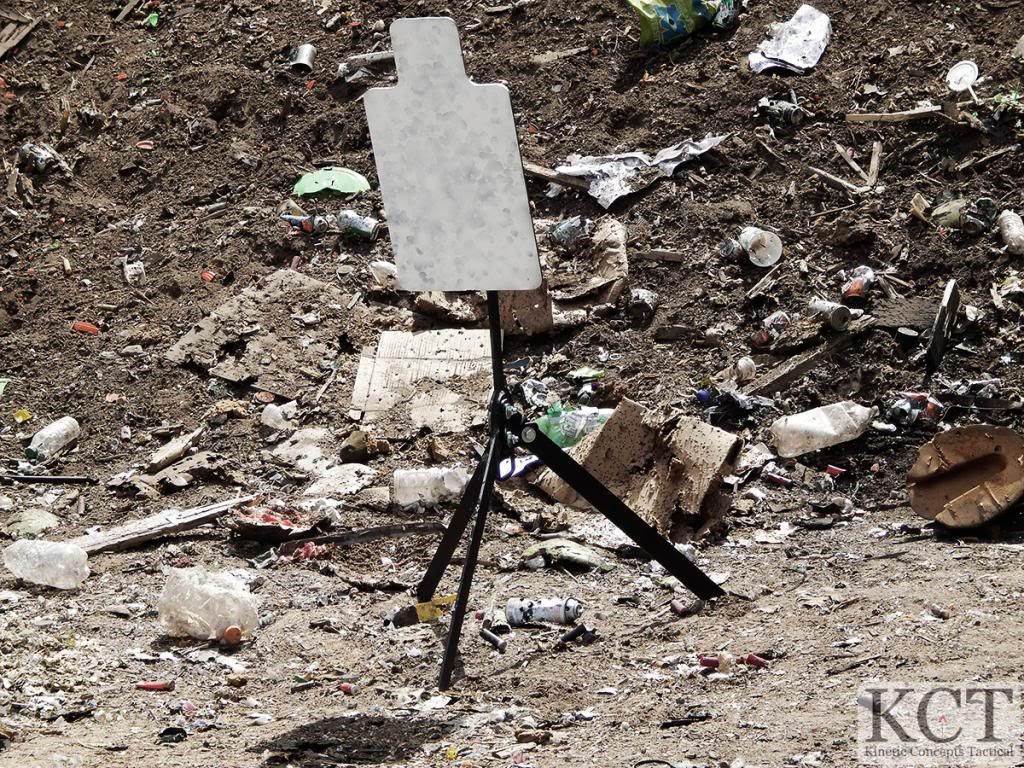 Evil Roy stand with PT Torso AR550 steel plate. Torso is 13" x 24"
You can very easily mark and note hits on certain areas of the target however, by coating the steel with spray paint. This provides a very clear bullet impact, useful when trying to engage the target in particular areas such as center of mass or head shots. This can be particularly effective when using a steel target for a hostage drill, ensuring that you've engaged the correct target.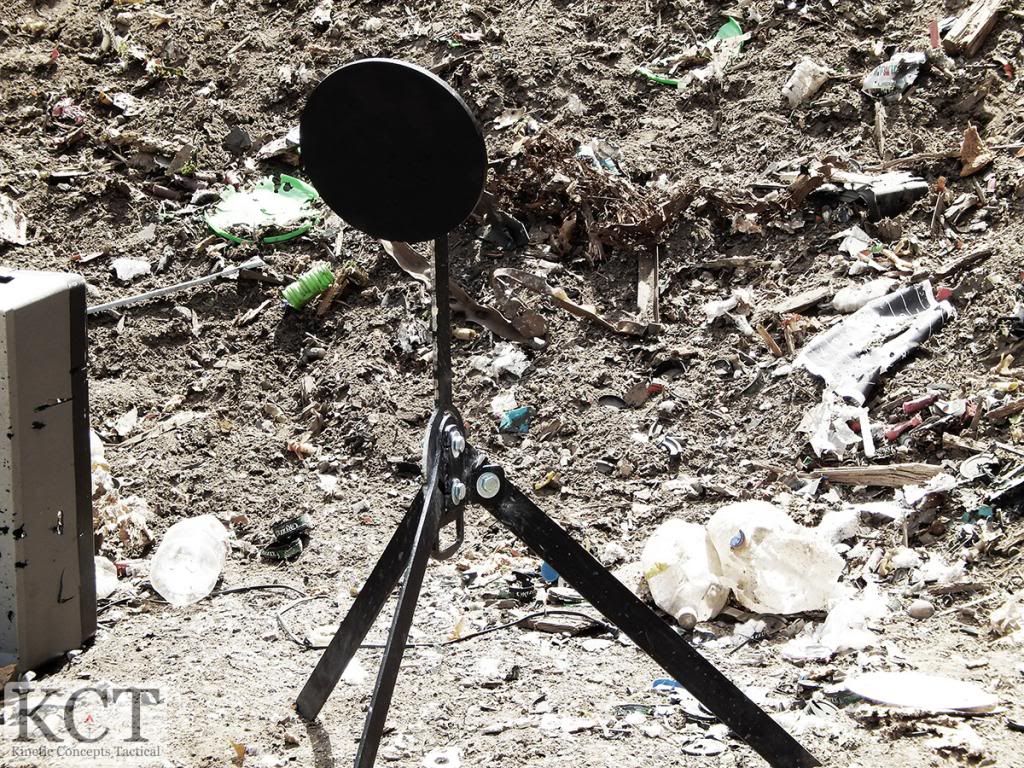 Evil Roy stand with 8" Circle AR550 steel plate.
Action Target offers several different target head options for shooters to select with this target stand including the PT Torso, IPSC Torso, 8" Circle, as well as many others for competition, recreational or educational shooters. The plates offered are AR500 steel by default, able to accept hits from rimfire and handgun calibers at any distance, and the recommended minimum safe firing distance is 10 yards. You can also upgrade these plates to be AR550 steel, and engage them with rifle calibers traveling less than 3000 fps from at least 100 yards away.
Very clear bullet impacts on the steel plate marked with white paint.
The stand itself is constructed very well, and is quite simple to set up and use. The steel hardness of the stand itself is not listed by the manufacturer, however it has caught several splashes and even a couple of direct hits from pistol rounds with no ill effect. Should any structural discrepancies be found, they will be documented here at a later date.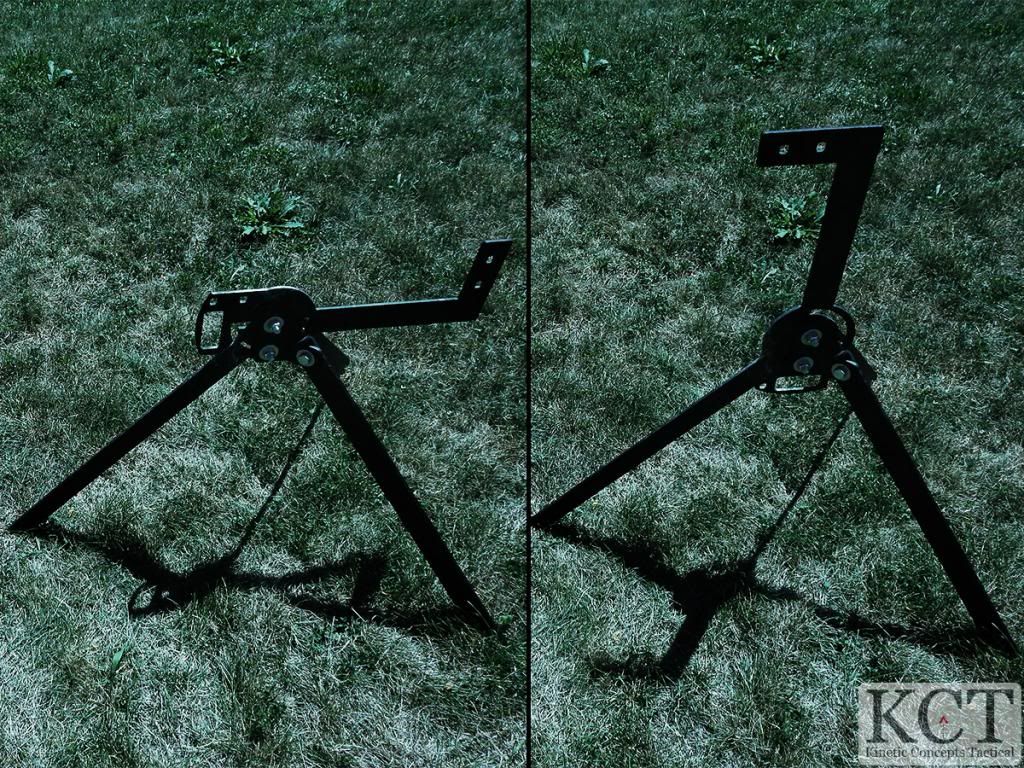 The stand has two different height settings for use, one at 3 feet, and the other at about 2 feet. Even with the heavier 35 pound PT Torso target head attached, the stand is very sturdy on most types of ground at the tallest mode of use.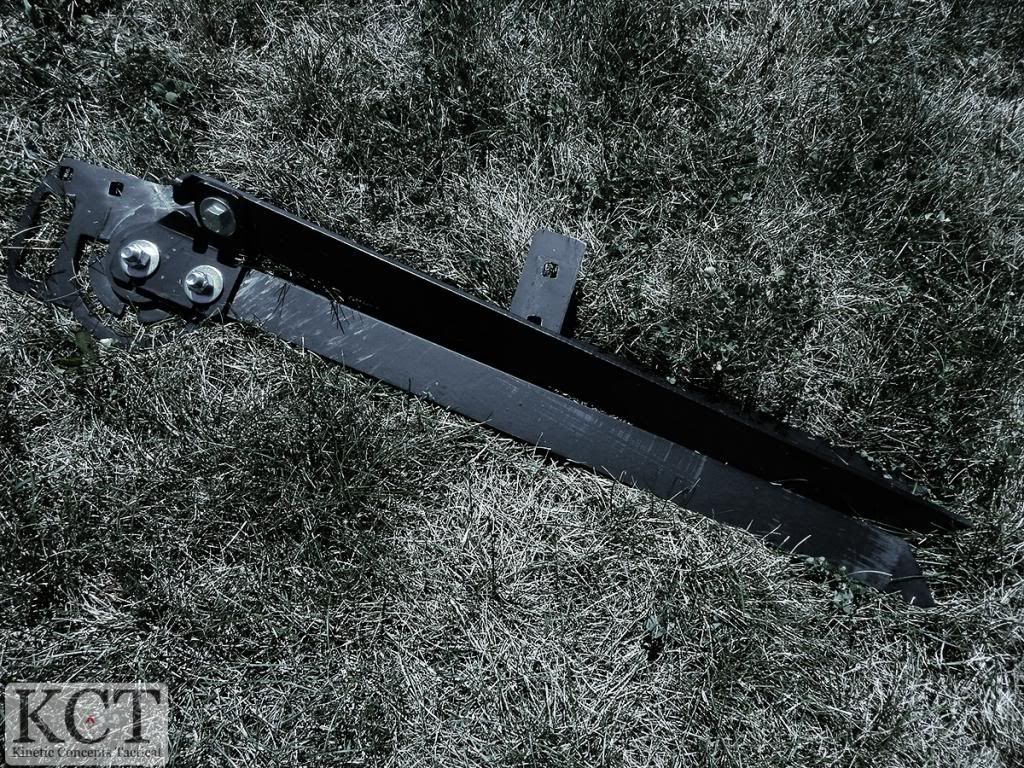 The Evil Roy stand collapsed, ready for easy transport, which fits into the trunk or bed of any car or truck.
Set up and take down are a breeze, with the stand folding out into a tripod and the target mounting arm swinging into place. Then the target head can be attached with two provided bolts and wing nuts. Just by hand tightening the hardware, the bolts will start to come loose after a couple hundred shots. This can be resolved by replacing the wing nuts with standard washers and nuts, using a socket wrench to tighten them. We have yet to see the target head move out of position enough to fall off the stand, however enough shooting without re-tightening the hardware could cause this to happen.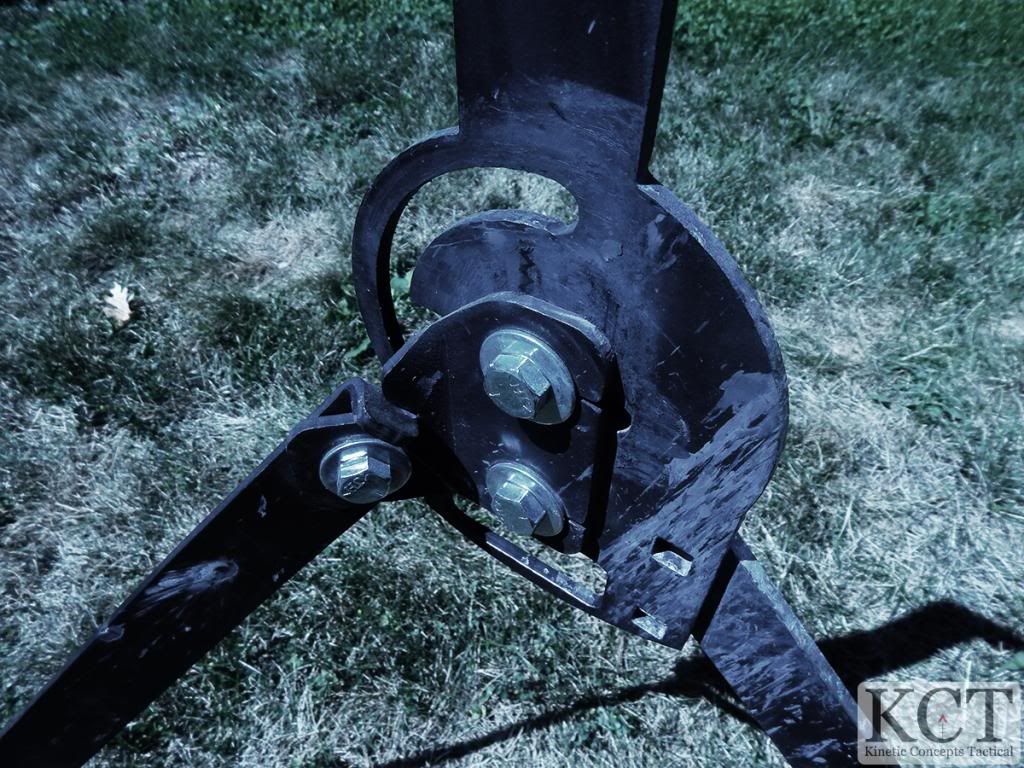 The swiveling portion of the stand, displaying the hardware holding everything together as well as lead which has splashed down onto the stand from the target.
One thing to note with safe handling for this target system is to have a dedicated set of gloves for it. There is a high chance of lead exposure on both the target plate and the stand, so it's important to minimize the contact of this on your bare skin.
At a total cost for this setup of $265 shipped, it is very affordable compared to many other comparable steel target systems. The Action Target Evil Roy series of targets makes itself into a very valuable addition to your range gear, and will provide many years of reliable and dependable service. Go check them out for yourself to see if their products suit your training needs:
http://www.actiontarget.com/