For those who decide to include gloves as part of their kit, selecting the right pair for the task at hand can be a difficult process. There are many different types of gloves out there, covering a wide spectrum of functions. What types of features are needed will greatly influence the selection made, especially for a multipurpose set of gloves.
Before we look at the gloves that this article is about in detail, we will offer some advice into determining the right set of gloves to purchase.
When shopping around for a set of gloves, one can narrow the selection down some by going over a list of qualities and features that need to be included. As a starting point, consult the points below to get a good idea of what to consider:
Do the gloves need to be any of the following?
Cut/stab resistant (Kevlar)
Heat/flash resistant (Insulated)
Well fitting (No space at end of fingertips, etc.)
Colored specifically / Reflective for safety
After determining needs comes the selection and purchase. For my needs, the Mechanix M-Pact Covert gloves large sized fit, and we'll take a closer look to assist those who they would also work for. These Mechanix gloves are made in Vietnam, and were ordered from Amazon for $32 including shipping. To give a summary about them, we'll compare the gloves against the above list of features.
As the name of the product might suggest, these gloves are designed to provide excellent protection from impacts ranging from side-swiping an object or surface, to an object or debris falling onto the hands. The Mechanix website states that the material used to offer this protection is a molded thermal plastic rubber (TPR) which is sonic welded to the glove. The design covers the fingers, knuckles and partial metacarpals for the middle, ring and pinky fingers. It also protects a portion of the back of the hand along the thumb and the back and outside of the wrist with 3/16" (4.76 mm) of the TPR material. At the finger joints, the TPR is segmented to allow full dexterity and range of motion.
The index finger is still protected by a layer of foam with a rubberized pad, allowing for full use of the trigger finger without sacrificing impact and abrasion resistance. While this design will not offer much protection from a very heavy object causing severe trauma and broken bones, it will still protect from most impacts and abrasions that can be found in a dynamic environment.
Mechanix claims that the top of the gloves is a water resistant material named TrekDry, however I have not found these gloves to perform very well at repelling moisture. In both rain and snow, the palms and tops easily became wet. In the snow, even the task of brushing off a vehicle can make the gloves wet. So while these may not be optimal for very wet environments, they can still function properly in the event they become moist.
To aid in retaining the ability to grip surfaces even while wet the palm, index finger and thumb are covered with Armortex panels. These also seem to be fairly abrasion resistant, which should provide a decent lifetime for the gloves.
A common issue that I have with gloves is that my hands get sweaty in them quickly making prolonged use uncomfortable, and taken to an extreme can cause health problems. One thing that these gloves have going for them in my book is that they allow plenty of airflow. Even after wearing them for several hours at a time indoors and out while performing activities such as driving, firearms training and moving material goods, I was never feeling that I had to take the gloves off to air out my hands.
This is not a quality that I would advise is imparted to this product from Mechanix Wear. These are lightweight multi purpose gloves, however would not offer much resistance to any cuts or punctures. Mechanix Wear does offer products with these protections, and I would advise that one looks into their ArmorCore series of gloves if this is needed. Some examples of tasks that the M-Pact Covert would not be suited for is handling glass or sheet metal and cutting material goods.
While these do offer protection from hot surfaces, I would not recommend them for regularly handling very hot materials. They have proven to be useful in grabbing warm firearm parts and brass casings on the range, as well as retrieving cookware from the oven without any noticeable discomfort to the handler. Despite these capabilities, I still would advise against using them for automotive repair or fire-fighting purposes.
Touch-Screen Compatibility
The rubberized panels on the thumb and index finger of these gloves do allow for use of touch-screen devices such as smart phones and tablets. The regular cloth covering of the remaining three fingers however does not allow the same type of functionality. The feature may not be specifically designed to do this, as it works better with warmer temperatures. The process still requires the heat from the fingertips to activate the screens. One thing to note is that the material disperses the heat from fingertips a bit, and it can be somewhat difficult to type precisely on a small on-screen keyboard such as a smart phone. Typing on a tablet however provides a much more accurate input capability.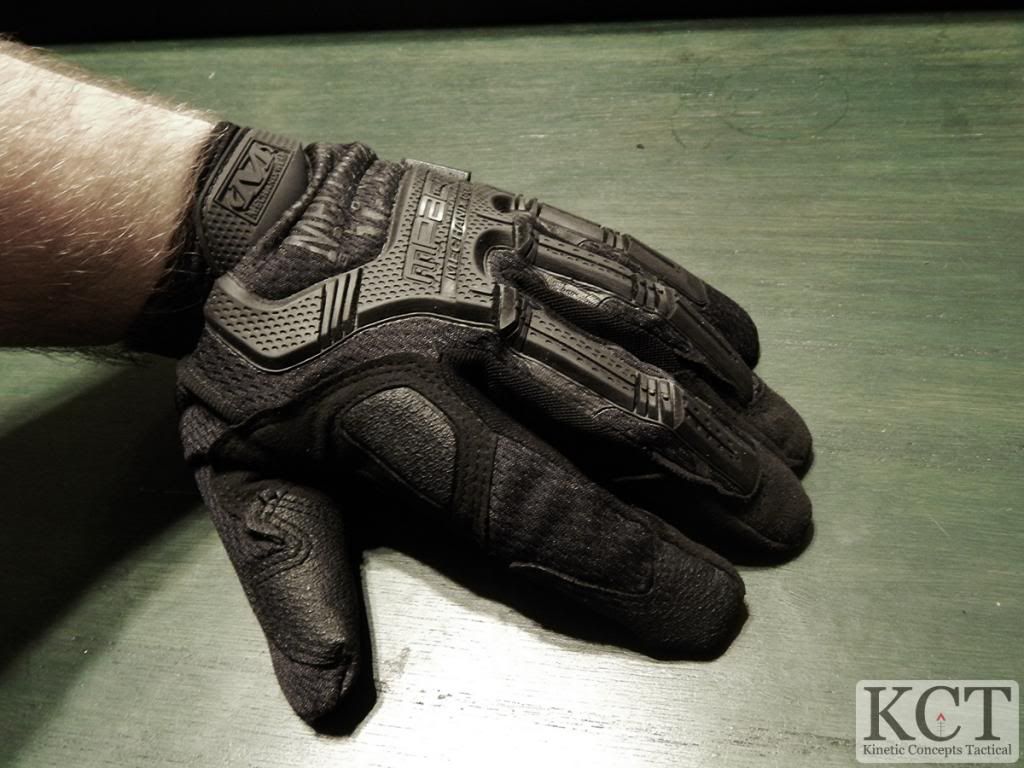 The gloves that I purchased were the large size, and Mechanix Wear also offers them in small, medium, x-large and xx-large. They claim that they are a "second-skin" fit, and I agree mostly. It is still very noticeable that gloves are being worn, however they are quite comfortable. An issue found with most gloves by myself has been that there is too much material at the fingertips while the rest of the item is well fitted on other parts of the hand. These do not seem to present the same problem, as they are a good fit all around the hand.
A couple things to note regarding these gloves are the hook and loop attachment system for the wrist strap, and the brand tag on the outside of them. The hook and loop is an interesting design, and not like standard velcro that is out there. The hook side of a lot of types out there can be very scratchy and irritating, however Mechanix Wear has selected a style that is completely smooth when felt. See below a macro photo of this material, which uses rows of hooks in alternating directions.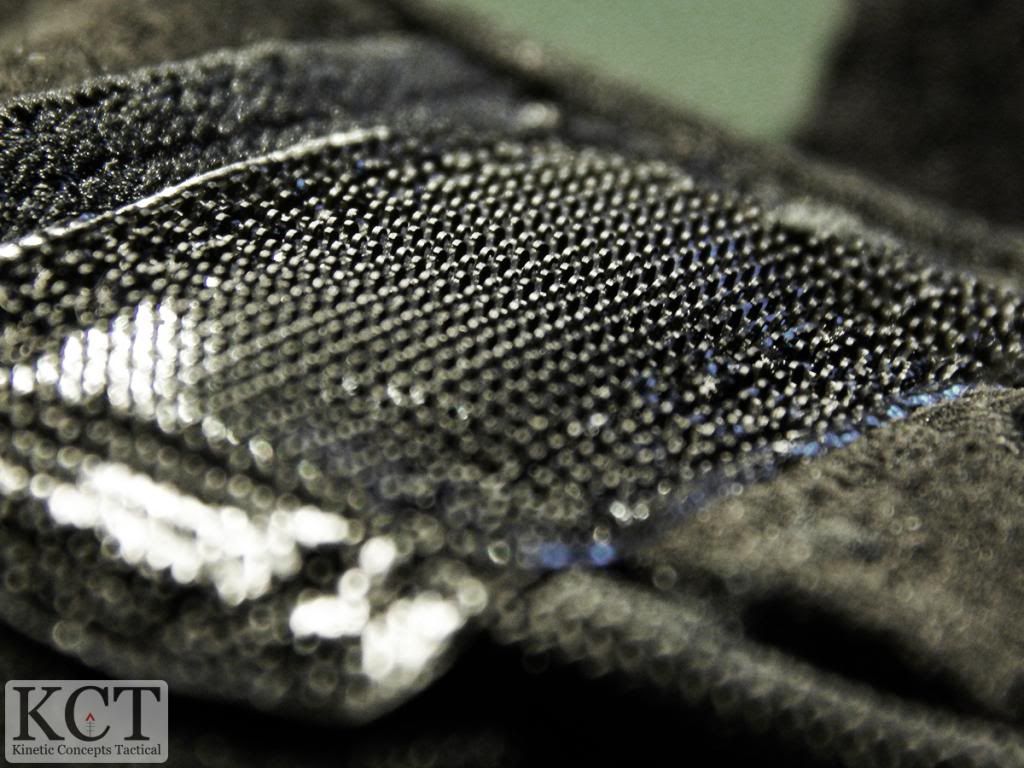 The issue of the brand tag was something that I discovered immediately after putting the gloves on for the first time. The tag is sewn through the layers of the glove itself, and are made of a synthetic material. It appears that the back of these tags was cut using a form of heat once the gloves were in the final assembly steps, as the corners of them were very stiff and sharp. The picture below illustrates the tag as shown from the outside and the area circled in red is the same spot on the inside. I remedied this by flipping the gloves inside-out and trimming the back of the tag with very small sewing scissors.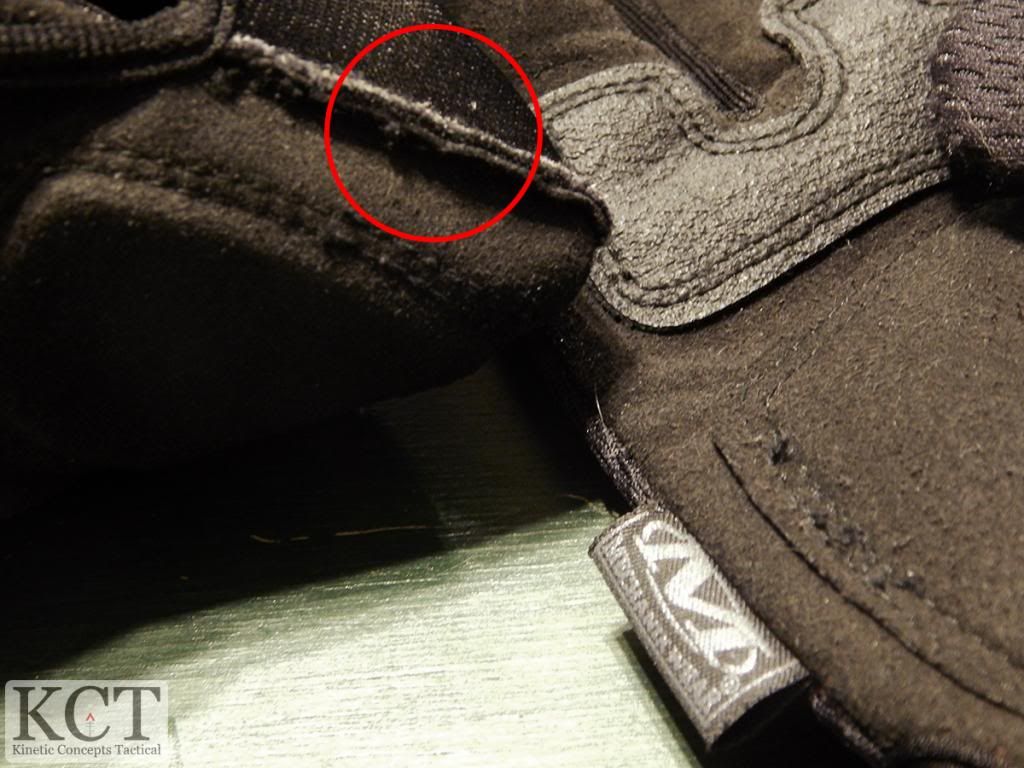 Another name oriented trait of these Mechanix gloves indicates that they are meant to be covert, and therefore are entirely black. They contain no reflective materials, and would be well suited for applications in military and law enforcement operations. If the qualities of these gloves suit one's needs but the all-black construction is not optimal, Mechanix Wear also offers these in the following colors and patterns:
Mossy Oak camouflage
Woodland camouflage
Coyote tan
Covert (all black)
Safety (high visibility green or orange)
Black (black with white, grey and yellow accents)
The standard black gloves are also offered in a fingerless configuration, which is not so for any of the other colors.
Photos displaying the ability to still manipulate the trigger on a Glock pistol. Safe condition of the firearm was verified by two persons before image staging and capture.
Mechanix Wear has a wide range of products that can fit most if not any needs for nearly all applications. Whether it be for military, law enforcement, first responder, automotive, hunting, shooting or even manufacturing and chemical handling, they have a set of gloves that can protect some of the most important tools that we have.
Check them out at:
http://www.mechanix.com/
to see the full line.