Yankee Hill Machine (YHM) is known for their sturdy and rugged components. We have used a number of their components in customer builds, and they have proven to be sturdy, rugged, and easy to use and install.
YHM has released a number of free-float and two-piece rail and handguard systems, from the simple Freefloat tube series to the advanced SLR series.
Right in the middle sits their Diamond Series, named after the diamond shaped heat vents which mimic the YHM logo. It's not as trim as their Lightweight series, nor is it as modular as their Customizable line. What the Diamond Series provides is solid, workman-like performance at a reasonable price.
Features
The Diamond Series is available in several configurations, some of which you may never have known about. More on that later. Specs were taken from the manufacturer's website.
Length:
Carbine 7.29"
Midlength 9.29"
Specter 9.675"
Rifle 12.58"
Competition 15"
YHM covers most common and uncommon rifle configurations. They do not offer the Diamond in the Mini length (4.15") configuration which they offer their Lightweight and Tube series in.
Rails:
The Diamond has full-length rails at the 12, 3, 6, and 9 o'clock positions. These are true 1913 Picatinny rails, and are not scalloped or cut-out in the middle, which means your accessories will not slide around the rails if secured with a central nub, like many vertical grips.
However, this does add a fair amount of weight.
Weight:
Carbine 12.64 oz
Midlength 15.2 oz
Specter 15.96 oz
Rifle 19.07 oz
Competition 16.8 oz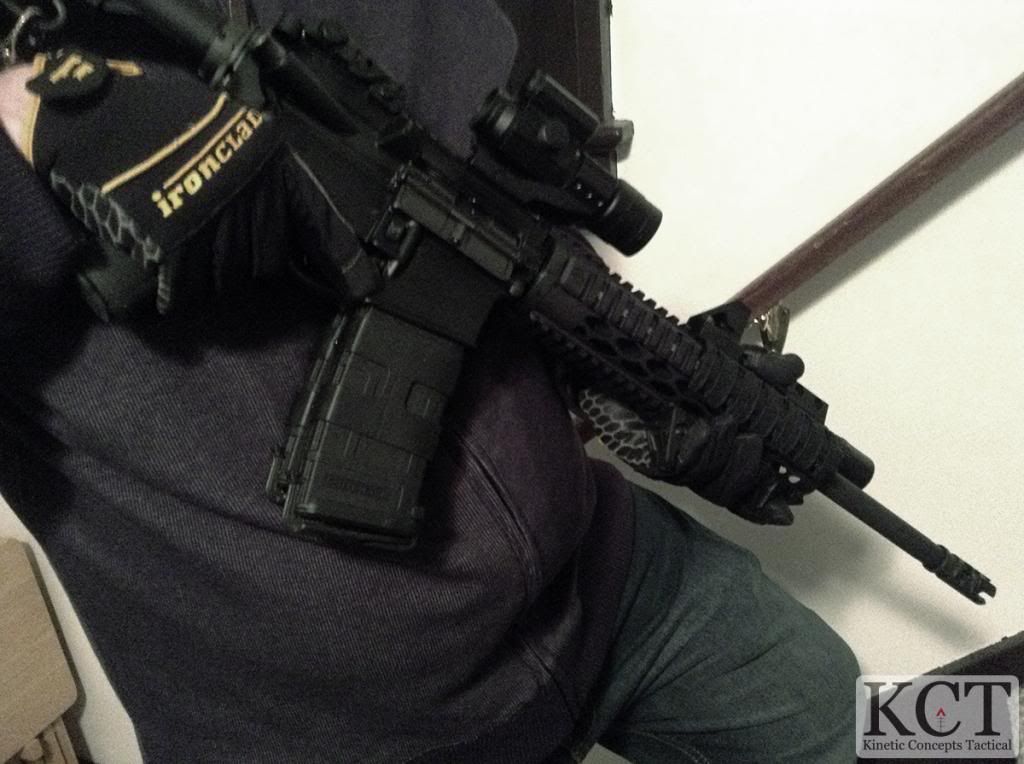 Internal diameter:
All Diamond Series free-floats have an internal diameter of 1.75", meaning that they will comfortably fit over low-pro gas blocks and most piston systems.
Testing
:
The YHM rail system has been on its test carbine for about 6 months, and two sets of these rails have been on customer builds for 8 and 4 months respectively. So far no construction or failure issues have been reported.
Now on to the fun stuff.
When mounting accessories on an AR, there is a tendency to go overboard, especially if there's rail space available. In this regard, I'm not much different. Currently on the YHM there's an MBUS front sight, Magpul hand stop kit, a Magpul RSA, Magpul XTM rail covers and a Surefire G2 Nitrolon in a VTAC polymer mount. Underneath is a chrome-lined Del-Ton HBAR topped with a FSC 556 brake.
The YHM Diamond rails are rock-solid. After using traditional 2-piece handguards, the difference in the stability of the forearm is immense. No wiggle, and no worries about the rifle banging up against something and taking damage. Although the weight does make the rifle a bit cumbersome, it also helps mitigate muzzle flip by placing more mass out on the front end of the gun. We have taken this setup out to carbine competitions and it is a little more work to drive the gun, but the weight penalty is not crippling even when pitted against lighter-weight carbines.
Installation is easy and straightforward, and requires the removal of the front sight block and gas tube, as well as the original barrel nut, delta ring assembly and the flash hider (to remove the sight tower). If you have a conventional AR sight tower and a permanently pinned flash hider, you will not be able to mount these rails without cutting off the front sight tower, although the tower can be ground down to form a low-profile gas block. For nearly every other configuration, the installation is painless, providing you have an armorer's wrench and an upper receiver vice block.
If you want to add a free-float rail system without breaking the bank or skimping on quality, give the YHM Diamond Series rail systems a look.