Sometimes its the little things in life that make a big difference. The new magazine release button by
Next Level Armament
is one of those things.
When I heard that NLA was opening up shop in my home state of Michigan, I was overjoyed. When I found that their shop was located very close to me in Jenison, I was even more excited. The icing on the cake was the invite from Curt Batdorff to tour their production facility and test out components.
Curt, who is a Supply Chain Manager for NLA, showed the KCT staff around their facility, allowing us to check out their state of the art production machines, handle their new designs and rifles, and meet some of the fine folks that make their products.
In the package that he handed us, there were quite a few goodies to review, their new ambi charging handle, a NiB bolt carrier group, a few flash hiders and muzzle breaks, and a tiny piece of machined metal that was their version of the venerable AR-15 magazine release.
So what's so different about this magazine release, and why should anyone be excited about a tiny part that comes in every lower parts kit? After installing dozens of mil-spec mag releases, I immediately noticed a difference with the NLA mag release. It is closed on the exterior side. While most mag releases are open so that the other half of the release can be screwed in, NLA's is not. it's also longer than the standard release.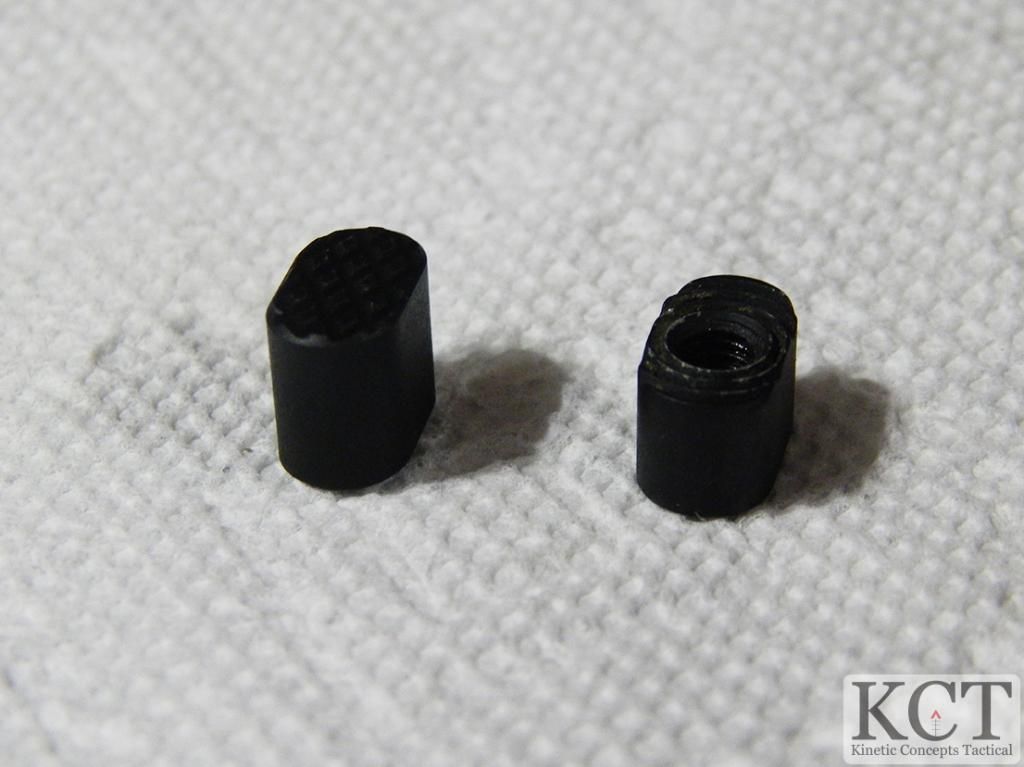 Installation becomes a bit easier with this, as you simply screw the release arm into the button until it won't turn any more, and then back it out until it lines up with the release cut in the receiver. Nice and easy. But the real benefit to this button is the speed and consistency with which it releases the magazine from the rifle.
I have used extended magazine releases before, and they never work for me in the end, because most of them are large paddles that extend from the mag release button. This has caused me to get my sling caught on the button, hit it accidentally, or otherwise become more problems than it is worth. NLA's solution was simply to make the button a bit longer. Because of this, it moves the mag release arm out of the way much sooner than the traditional button, and gives the magazine more clearance as it pushes the release arm further out of the receiver than a standard button. That is not enough to cause the release arm to "pop out" of the receiver and pivot, but enough to ensure that it snot in the magwell when you are trying to drop the mag. This is especially important on dirty rifles, where sand and other debris can get into the magwell and force the shooter to apply a lot of force to the mag release while wrenching down on the mag.
In my testing, I have not had an issue with the mag release activating accidentally. It does not stick out far enough to be struck inadvertently, and does not give the release a larger profile on the rifle's receiver.
The NLA mag release button does everything I want a mag release to do, but better. While they are currently not available for individual purchase on their website, Curt assured me that they will be included on every rifle they build, so you can get the same great performance on your new NLA rifle.
Be sure to check out NLA's website for their great collection of
accessories and rifle parts
in both 5.56 and .308 for more information.
Kinetic Concepts Tactical