Many choose to use a red dot sight for different applications from a self defense point of view, to competition and hunting. They provide fast target acquisition in short to medium ranges, and are even capable out to 100+ yards with the right setup. Part of this is due to the fact that they work in many lighting conditions from the middle of the day to a very dimly lit house or building. They are able to be used effectively with both eyes being open, which may be a natural body response in a stressful shooting environment.
Available in different styles, dot sizes, dot colors, tube sizes and reticles, it's easy to find one that works for virtually any platform and user. Barska may not be among the top tier of optics brands out there such as EOTech, Aimpoint or Trijicon, however their products are still a viable option for many weapon systems.
With a simple product name of '30mm Red Dot Scope', model #AC10328, and humble price tag averaging $35 +tax/shipping this might easily be dismissed as a serious optic selection. While it doesn't carry the clout of the big brand names, these little optics can still perform just as well.
One thing to consider with the price point, which in my instance is true, is would you buy a $400+ piece of glass for a firearm with a price tag of $250 or less? Now if that same, less expensive, optic worked on a carbine or battle rifle, would it not be feasible to use it instead of paying at least six times as much to have a particular brand on the weapon system?

Even the rimfire versions of some of these larger branded optics are much more expensive, for an example take a look at the EOTech XPS2-RF, which retails for around $375. One big downside for that particular model is that it has a proprietary mounting system, using the dovetail setup of most .22 caliber rifles. In effect, this leaves the optic unable to be mounted on standard rail systems, including the S&W 15-22's top rail. Enough about theories on selecting and purchasing one thing over the other, lets take a look at the optic itself.
Here's the technical data provided by the Barska site itself:
View from the front, showing the coated lens.
Barska advertises this optic as being able to be used on virtually any weapon system including handguns, air rifles, rimfire rifles, center fire rifles, muzzle-loaders, shotguns and crossbows. Even if you have several of any of these, it would be very easy to pick up a few of these optics without breaking the bank. This way, no matter which weapon platform or system is picked up it gives the user the same eye relief and sight picture. A red dot is also very easy for an inexperienced shooter to use one it has been zeroed.
Point of view shots using the brightness setting of 7 in very bright and medium light conditions.
There are 11 settings of brightness for the dot, and an off setting of '0'. While this gives a highly adjustable dot for any environment, it seems a bit excessive for only having one color mode. Also, if the dial is rested between a numbered setting, the dot will not illuminate. A fairly positive tactile response is felt when the setting locks into place however, so it may only be something that is experienced with an extremely hasty turning on of the device.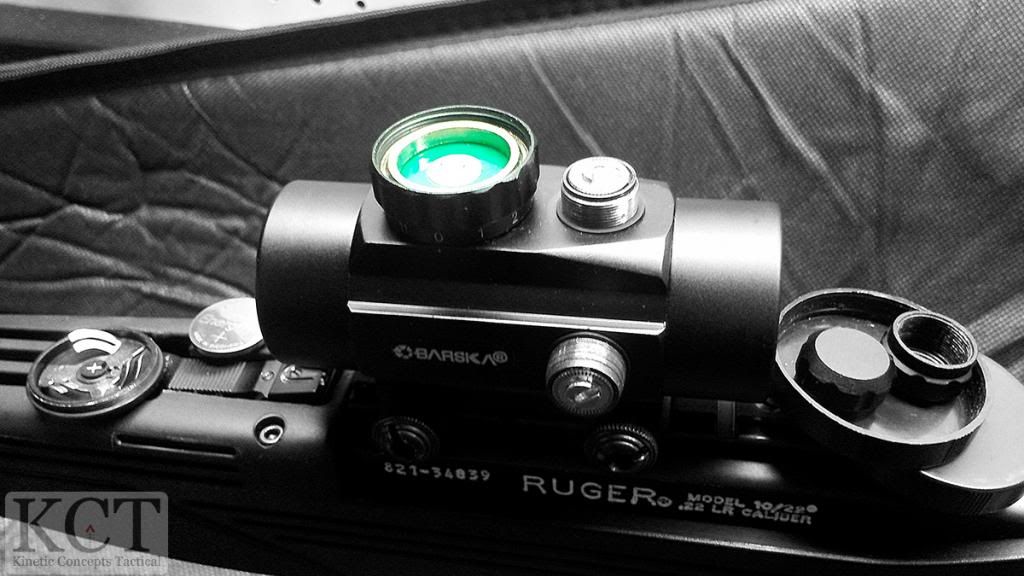 The battery compartment and adjustment dials are exposed by unscrewing the caps.
The setting dial on top also houses the battery compartment, which is opened with the use of a flat screwdriver, coin, flat object, or even your hand. The one CR-2032 battery lasts for a decent amount of time, but we'll have to report back with more precise figures as testing continues in this device. There are also two adjustment dials, which are exposed by removing the caps. Each click equals 1/2" at 100 yards on these dials.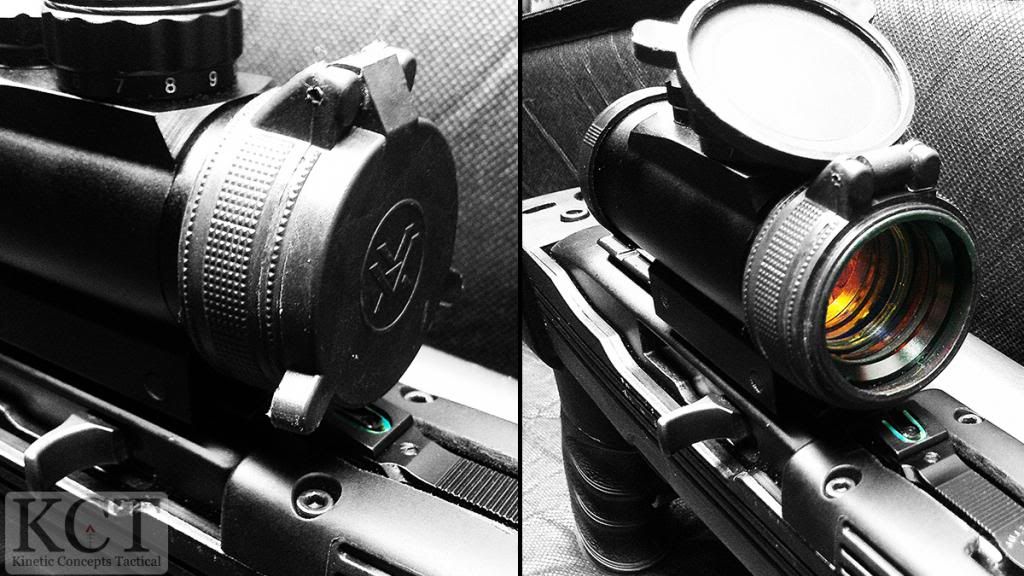 The lens covers have no retention, however we are researching to see if any other brands of flip-up covers will attach to the sight. So far we have tried a Vortex lens cover, as pictured above. This cover fits on the optic, and opens effectively with very little effort. However, it is somewhat of a pain to get the cover to close each time. Because the material is a softer rubber, it tends to slip and distort. This makes the tactile functions of closing the cover more involved, maybe even requiring two hands for some. Once we're able to test other covers we'll report them here.
For this application, the red dot was mounted on a Ruger 10/22 and set at a 25 yard zero. Since there's not a drastic height over bore ratio, it produces fairly accurate point of aim/point of impact for shots within that 25 yard mark. Even for shots made further out, the 22lr produces a fairly flat trajectory within about 75 yards only producing several inches of deviation from the dot's zero.

Since the main application of the red dot is for fast target acquisition in close ranges, I felt that the 25 yard zero gives good effect on target on any closer ranges as well. This gives a good baseline for the optic and weapon system, making it quite adaptable in many situations.