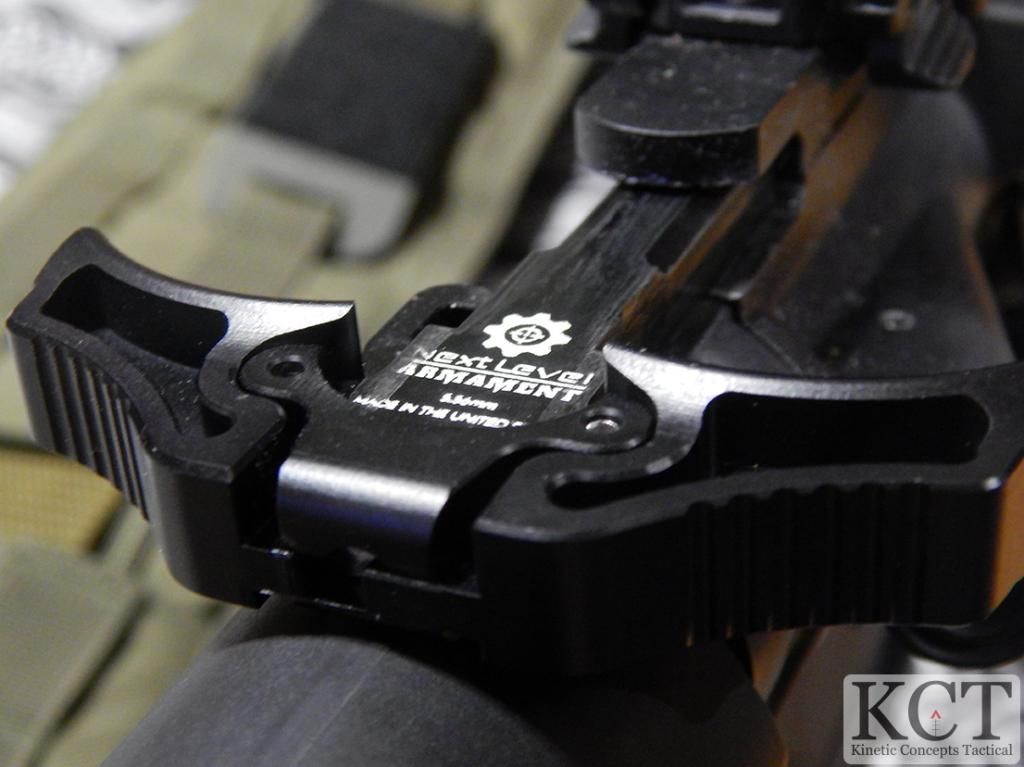 Next Level Armament
, located in my home state of Michigan has been quietly turning out precision parts for the firearms industry for some time now. As they step into the ring with their new line of rifle accessories and parts, they bring quite a few interesting designs to the table.
When NLA's Curt Batdorff slapped their new Ambidextrous Charging Handle into my hand, I knew they were on to something good. The edges are well machined, with no rough sports, burrs, or machine marks anywhere. Working the handle over gives you the feeling that this part is tough, well designed, and well, sexy.
When it comes to AR parts, I have a pretty strong feeling about what I like and don't like. I've looked at a lot of ambi handles over the years, and I've never taken the plunge to add one to my rifles. They've always felt too bulky or clumsy to me, or the latches on the side stick out too far or not far enough. My go-to charging handle has been the BCM Mod 4 handle since they released it. I even have one of their earlier generation models without the gas scallop on the back of it. When BCM released their Mod 4 Ambi, KCT Co-Founder Damian St. Parker picked one up and loves it, but it's just not for me.
Once I dropped the NLA Ambi into one of my rifles and racked it a few times, I started to change my mind. The handle racked smoothly from either side, and worked well in the traditional "split-finger" charging method originally used on Stoner's design. Right handed, left handed, it didn't matter. The NLA handle worked like a charm no matter what I did with it.
I'm a big proponent of function over form. It has to work reliably, or its not going with me, I don't care how pretty it looks. That said, if you can make something functional and nice to look at, you've got my attention.
NLA must have the same mindset, because they made a damn fine looking charging handle. The design (which Curt informed me is an older version, they are currently on version 3) looks as good as it works. Pull the handle out and you're treated to the handsomely laser-etched NLA logo. Lock it forward and it sits on the back of your gun, looking both graceful and lethal. It looks like it means business. The latches are swept forwards, elongated, and fluted to reduce weight and produce an aggressive looking design. The edges are ridged to provide a positive grip, even with wet or gloved hands. If you like the grip-and-rip style of charging your rifle, you'll be pleased to know that the latch will allow your hand to slide off without cutting you.
After working the handle over and doing some dry-fire manipulations, it was time to head to the range. The NLA handle performed well with no issues when charging the weapon right or left handed. It worked equally well with a bladed palm as it did with finger manipulation. NLA also incorporated a scallop to the rear of the handle to keep gas out of your face when shooting nose-to-charging handle. Note that I tested this without a suppressor, which, let's be honest, is probably going to give you a faceful of gas if you're riding the rear of the receiver with your nose.
If you're looking for a nice ambi handle that works like it's supposed to and looks good doing it, check out
Next Level Arms
and their new charging handle. Oh, and they make a .308 version. In fact,
NLA
makes all kinds of .308 parts and rifles. So you can get the same handling of your 5.56 on your .308. Whether you need a 5.56 carbine or a hard-hitting .308, Next Level Armament has you covered. I might be leaving the Mod 4 in the box myself.
Kinetic Concepts Tactical