The Need
I've been looking into multi-tools for a few years as an important part of my EDC and range equipment. Just like my trusty Swiss Army Knife that's been with me for over 20 years, I can easily see the value in having a do-it-all tool that goes with you.
However, every time I get interested in a good multi-tool, something turns me off. It could be a bad review, but usually it boils down to the size, weight, or price of the tool. Yes, I want to have a durable, long-lasting multi, but I also don't want to carry around something that's the size and weight of a loaded 20-round magazine.
After going back on a few good sets of tools, I was convinced it would be another summer of dealing with my buddies' exasperation as I ask to borrow their multi-tools at the range or in the shop. Then I stumbled across the new Gerber Dime.
The Solution
The Dime is priced right for what it is. At $15, I figured I could at least check it out and not be out too much scratch if it was junk. So far, I've been pretty happy.
The point of the Dime is to give you a lot of useful tools in a tiny, tiny package. Gerber suggests attaching it to your key ring, which is a good idea, since it's so tiny you could easily lose it. So what tools did Gerber cram into this little multi?
A lot:
Pliers
Wire Cutter
Fine Edge Blade
Retail Package Opener
Scissors
Medium Flathead Driver
Crosshead Driver
Bottle opener
Tweezers
File (coarse and fine)
A retail package opener? Yup. It's a small 90-degree angled blade at the end of an arm. It makes cutting into clamshell packaging, cutting the plastic off of DVD's, and other mundane tasks a breeze. At first I thought it was odd that the Dime devoted one of its tool slots to something like this, but it really does make sense. As this is supposed to be a keychain tool, its functions are geared towards everyday life rather than extreme environment survival.
The pliers feature an integrated wire cutter which functions very well for small wires. Remember that the tool isn't shielded, so make sure you're not cutting into any live wires. While the pliers are well constructed, keep in mind the size of the tool, if you try to tackle something too big, and apply too much force to the pliers, you may snap them out of the tool. Remember, this is an EDC backup, not your main set of hard use tools.
The blade is also nice, and has a good edge to it. Right out of the box it's very sharp, and handles small jobs easily. Time will tell how it holds its edge, but so far its impressive.
The scissors are also a nice addition, and are made to spring open when deployed, making cutting things much easier. They are also quite sharp, and I've been using them to cut nylon, paracord, thin kydex, and more without issue.
The medium flathead driver is thin by necessity, which also limits its use a bit, as does the small gripping surface of the Dime. However, for gun maintenance and small household jobs, it does the trick.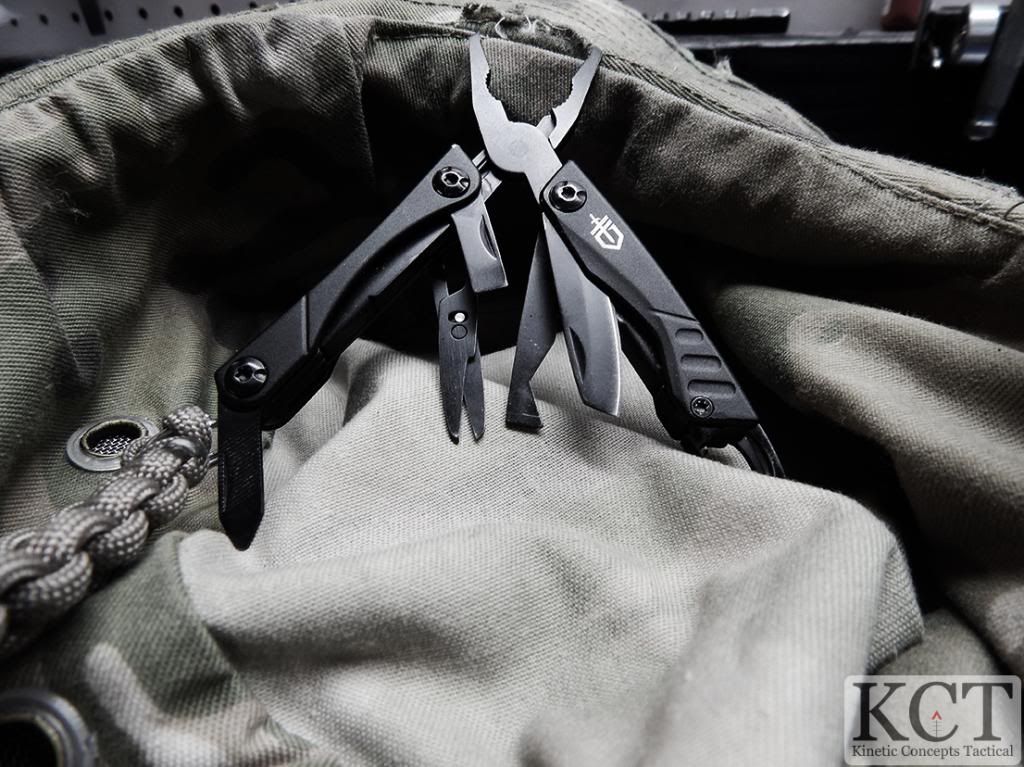 The crosshead driver is also very small, and is tapered to fit in most crosshead/Philips screw heads. Again, it's pretty tiny, and the tapered bit looks like you could break it if you were really torquing down on it, but if you use it for light-duty work, it should provide no issues. The driver is actually the end of the files, which have a coarse side and a fine side. I don't spend much time filing my nails, but if I did, I'm sure this would work for that and other light applications.
The Dime's bottle opener is pretty slick. It is always out, so it not only adds length to one of the legs when you are using the pliers, but it doesn't need to be deployed to open a bottle. Convenient. I'm not sure if Gerber is going for the tactical drinking crowd, but if you can mount a bottle opener on your rail, this is a pretty good indication that there's a market to cater to.
The tweezers are also well done. They are fine and slightly sharp at the business end, and they hold open nicely. There's a bit of grit as you slide them in and out of the Dime which has rubbed off a bit of the finish, but they stay put and are there when you need them, not floating around in your pocket.
Speaking of the finish, it's my only gripe with the Dime, and it's a small one. The Dime is finished in Gerber's black "tactical" finish. The finish has started to rub off on the tweezers a bit, and has started to wear off the body of the tool. So far its very minimal, but it is a bit disappointing to see the finish come off like that. Still, it's a tool, not a Faberge egg, so I expect it to get some wear and tear.
Overall I'm very happy with my pint-sized purchase. It does everything I need it to, nothing I don't, and it's small enough to stay out of the way when it's not in use. Gerber's new micro multi is a win in my book.