Adjusting pistol sights or replacing factory iron sights with fiber optic or tritium options are functions that many shooters choose to perform. Maybe you find that your have to hold your front dot a little to the right within the sight picture, or have purchased a used pistol that has had its sights adjusted previously. For most people, this would involve going to a gun dealer or any such store that has gunsmithing services available, and paying their fee to adjust the rear and/or front sight(s). If they have an indoor range available, usually you can grab a lane and fire a few rounds to check the alignment and readjust as needed. But if you are unable to test the sights, you'd have to leave, shoot later, then come back in for adjustment.
Replacing sights can be the same scenario, and some places can charge up to $40 for a sight job. Some pistol sights can be tapped out in a vice with a punch and hammer, but this isn't something you want to do with tritium sights, as rupturing the glass vials containing the radioactive liquid would not be an enjoyable experience.
Enters the Universal Handgun Sight Tool, manufactured by Fisher Solutions located in San Diego, CA. These are available directly through their website at www.sightpusher.com, or are also sold through various outlets such as www.glockstore.com and Amazon. I purchased one through Glock Store for $65 shipped, and received it within 3 days. Before we get into specifics, let's take a look at what comes in the mail.
Very simple and effective packaging, no need for plastic wraps, foam, special tape or anything else. This reflects the simplicity and durability of the product, and I'm sure contributes to the very low cost of the tool. Inside the cardboard box comes the sight pusher itself, and an instruction sheet:
For any slide put into the tool, it is advised to wrap the slide with cardboard, cloth, or other such barrier so as to not scratch it. Then simply shim underneath the slide to match the height of the sight blade. This is the standard version of the sight pusher offered, and the manufacturer does offer different sight blocks for specific handguns, including Springfield XDM and Beretta 92F. I chose the standard because it will work with my Glock, and also a wide range of other handguns.
Thank you for your interest in our article and site. Please take a moment to view the kydex holsters that we make, all at an extremely affordable price! Visit the store here:
KCT Kydex Web Store
Despite this tool being so simple, there are several different ways in which one can utilize it. For rear sights that have a set screw holding them in place, you can simply loosen the small set screw and move the adjusting bolt by hand to make small adjustments.
Although it is advised in the instructions to use a 3/4" socket for the adjustment bolt, I found that a 19mm one worked perfectly as well. The use of a wrench can give you more leverage for those sights that are a bit tighter in the dovetail cuts.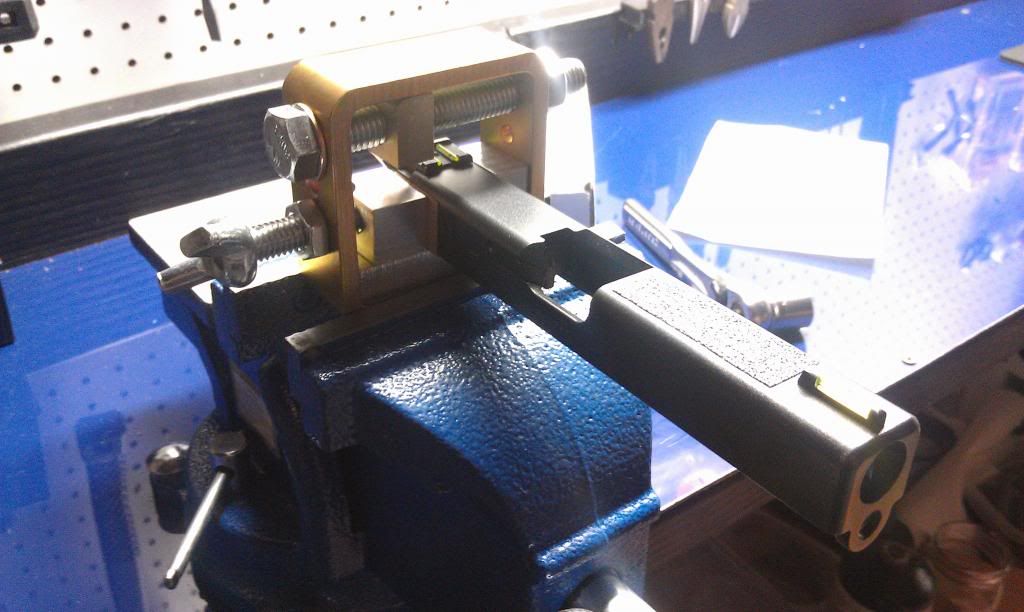 The sight pusher can also be mounted in a vise, for even more leverage against stubborn sights. You can even rest the slide on the top of the vise and set the tool lower in it, in lieu of placing shims between the tool and slide. There are a couple other nice features that make working with this piece of equipment even easier.
Either side of the sight blade can be used to adjust or replace sights. One is straight cut for XD, 1911, Sig and a wide array of other aftermarket options. The other side is angled for Glock factory sights. The advantage of these options is that as long as it is possible to secure the slide, most types of handguns will be compatible with this tool. The sight blade itself is cut from steel, while the locking blocks are aluminum.
From either side, there is a hole drilled aligned with the adjustment bolt. This allows you to make sure that the slide's dovetail is perfectly centered with the adjusting blade. This eliminates the possibility of tightening the slide in, and having to adjust it later when the blade ends up not being in the right spot. A nice feature to note with these viewing holes is that you can check the alignment from either, despite if you are using the angled or straight cut side of the blade.
This inexpensive yet rugged tool is perfect for anyone needing to adjust or replace pistol sights personally, or those that offer the service to others. It is capable of filling many roles smoothly, from tossing in a range bag for hand sight adjustments to clamping in a vise for use with a breaker bar. One thing to take note of is that most slides are hollowed out from a single piece of steel. Most are not able to perceive it by hand strength, but the slide itself does have flexibility and can bend. It is important when affixing the slide into this tool to never use tools to tighten it in. The wing-nut is meant to be hand tightened, and the jam nut used for rigidity. As always, it is prudent to use safety equipment and common sense while working with tools and guns.